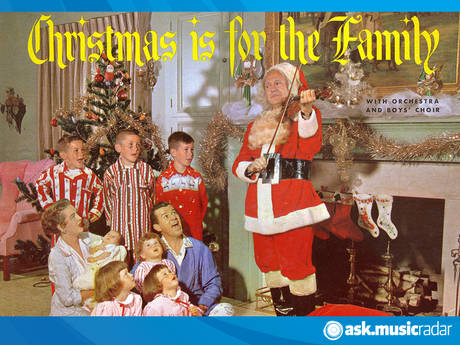 Compared to this Ask MusicRadar question, last year's festive mission - to find the best Christmas song of all time - was a relative walk in a snow-covered park. Anyone can bash out a novelty/overly-sincere one-off, but releasing an entire LP takes spirit? and a little bit of madness.
So what are we looking for?
Any album (or very extended EP) with a Christmas theme. Think Bob Dylan's grizzly 2009 effort Christmas In The Heart, or Mariah Carey's 1994 staple Merry Christmas.
What about compilations?
Yes. But that compilation has to excel at what it sets out to do. If it's a collection of festive hip-hop numbers, it has to be the best damn collection out there (if Run-DMC's Christmas In Hollis ain't on it, for example, it ain't the best). Got a compilation of Rat Pack hits? Again, it better not be missing White Christmas.
And if you're thinking about nominating one of the countless Now! Christmas editions, think again - anything including a pointless cover over the original (like Michael Ball's version of Chris Rea's Driving Home For Christmas) is instantly disqualified!
Albums containing decent cover versions (those which successfully interpret the song to fit another style or genre) are more than welcome.
What to do now
Get involved! Tell us your favourite Christmas album(s), and reasons why, like this:
Via MusicRadar (log in and leave a comment below with a link as usual)
Via Twitter (follow @musicradar and tag your submission with #askmusicradar)
Via Facebook ('like' our page at http://facebook.com/musicradar and post suggestions on our wall)
Or via ask@musicradar.com (just send an email the old-fashioned way)
We'll collate the nominations, build a poll with the shortlist and present a gallery of results just in time for Christmas.
Source: http://rss.feedsportal.com/c/673/f/8601/s/10383fe7/l/0L0Smusicradar0N0Cnews0Cguitars0Cask0Emusicradar0Ewhat0Eis0Ethe0Ebest0Echristmas0Ealbum0E3167460Dcpn0FRSS0Gsource0FMRNEWS/story01.htm
Garth Brooks Angelina Jolie Brad Pitt Courtney Cox Jennifer Aniston